Dwell in an English Village for a Cool August – Part I Twyford Village
So many cruise aficionados wish they could spend more time in one place. The desire is to take on the appearance of a local, in a relaxed atmosphere sans responsibility. Far from rush hour and plane schedules, close to coffee houses, eateries and entertainment, who would not want to spend a month suspended in heaven. For some an ideal place is the beach. For us, ideal is a small village in southern England.
Faced with a five-week gap between weeks at sea on two fabulous cruise lines, with a desire to catch up on writing and finish another Cruise through History installment, we chose a cottage in Twyford. Twyford is a tiny village, in Hampshire, a region of tiny villages. Three miles from Winchester and north on the B3335 from the cruise port of Southampton, yet a short distance south of London on the M3, Twyford is in the center of much history in south England.
We chose a cottage in Twyford by process of elimination, having never seen the house prior to renting. Southampton and Winchester are cities with which we were familiar. We often stay in Southampton pre or post cruise. Our favorite is the Pig in the Wall, Southampton, an historic inn, built into the historic walls of the old city. At the edge of the port centuries ago, the Pig now faces the entrance to the modern cruise port. Historic Southampton, and its High Street, have become overwhelmed by a shiny new shopping center and expensive, modern student housing units. The city is still perfect for a short stay. The attraction for a long stay has been lost.
Winchester, the old city around the Cathedral, and the extended newer, that is 19th century city, has maintained its Norman-Saxon feel. King Alfred still rules from his perch over the park and bus depot. The law courts remain attached to the hall where William I held court in 1066 and sixteenth century kings channeled mythical king Arthur and the Round Table. The city is compact, walkable and full of historic and other delights. Real estate is pricey. Stay for a week at the Winchester Hotel. Enjoy its bar and garden in the middle of the city. For a month or more, we needed a house, able to accommodate visiting family and friends.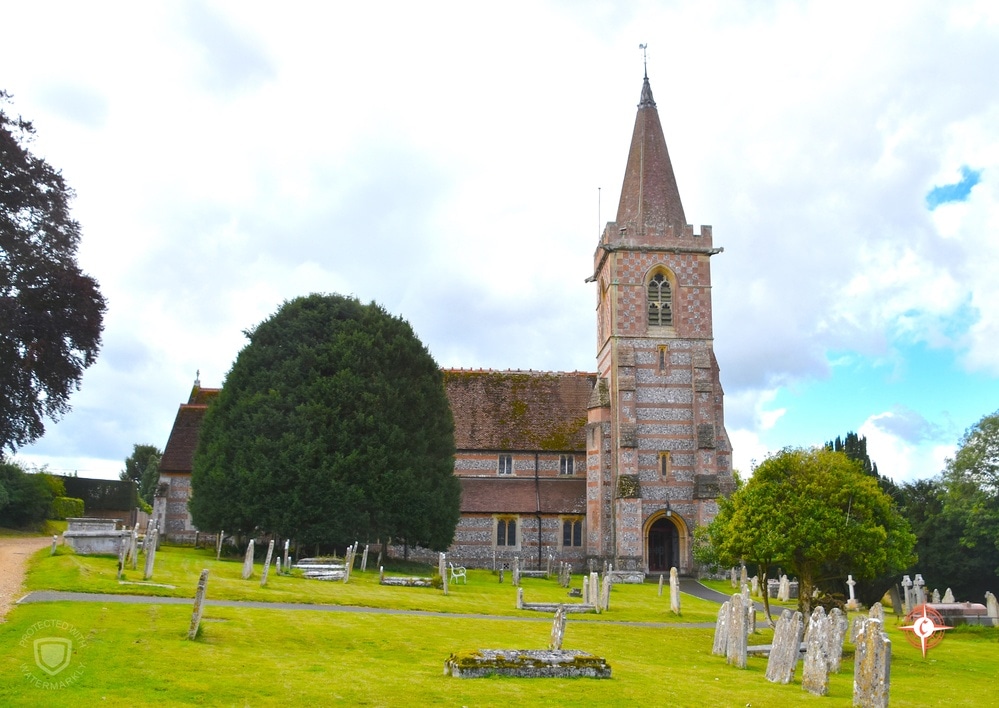 Mulberry Short Lets led us to Twyford. We rented Wimbourne Cottage on Queen Street, a five- bedroom, three bath, fully furnished house, with parking inside the gates of Queen Street House. Lord of the estate, actually the amiable landlord, a London transplant, told us the estate house belonged to the town doctor and our cottage was his surgery, in US terms, the doctor's office.
We rented based on website photos. The actual turned out even better. When we arrived and explored the area we realized we landed in our ideal haven.
Benjamin Franklin came to stay at Twyford House in 1771, to write his memoirs. Obviously, he had no idea there would soon be so much more to write. His host was the Reverend Shipley. Close to Twyford House is St. Mary Parish Church, family church of generations of Shipleys. Built in Norman style in the twelfth century, rebuilt in the sixteenth century, the 1878 St. Mary of today incorporates earlier iterations in its walls. The church sits on a Druid stone circle, an indication this has been prime real estate for two millennia.
Romans came to Twyford, as evidenced by the Roman villa excavated in 1891, at the end of Roman Road. Victorian England was a time of building in Twyford. Its modern water works are still housed in the original nineteenth century building, part operational today and part a museum.
At the center of town is Twyford Post Office and General Store. Twyford Post Office Scrummy Brown Sauce is like no other brown sauce. It makes ketchup seem so common. The Bean Below is the coffee house and tea room, below the grocery, operated by the nicest ladies in Twyford. Quite a compliment, since we met only warm and welcoming folks during our stay.
Down Queen Street from our cottage, lovely Simone owns Blakes Hair and Beauty. After my hair cut, as I walked down High Street to the Bean Below, I passed three fellows in field garb, with hawks on their forearms. When I mentioned this at the Bean, I was told Chris was just socializing his hawks. Hawk socializing is normal in Twyford. Sometimes Chris takes his hawk to the Bugle Pub. Everyone is sociable at the Bugle. The place became our favorite pub.
Chris and Mandy have the centuries-old farm behind Queen Street House, where Chris refinishes delicate antique furniture and Mandy cares for her horses. Chris relies on sixteenth century technique to train his hawks. Finally, I met someone with whom I could discuss HRE Frederick's twelfth century hawk-keeping in Italy. Increased auto traffic in Twyford has been fatal to hawks and horses in Twyford. The village now has two traffic signals on High Street, the B3335.
An abundance of friendly and helpful neighbors is important if you walk into Winchester on Itchen Way, also known as The Monarch's Way. There are numerous forks in the path. In 1651, King Charles II ran along this path to escape pursuit by Oliver Cromwell. He crossed the Itchen River at Shawford, a five-minute walk from Twyford High Street. Today the Shawford train station marks the spot. No doubt Charles had little time to admire swans on the Itchen River. Stopping for Sunday dinner at the Bridge Pub, or tea at the Shawford Tea House were not available to him. The stone cross on Shawford Down is in memory to those from Shawford and Compton lost in the Great War and the World War II that followed.
Charles was not the only or first monarch to walk Itchen Way. The son of William the Conqueror, William II, also known as William Rufus, died in 1100, under questionable circumstances in Hampshire's New Forest, north of Southampton. His body was dragged on a cart along this very path, to Winchester, where he was interred at the Cathedral. Centuries old stones of the Cathedral were not pleased to receive him. Its tower collapsed on his tomb.
For more on our month in Twyford Village, see Part II – Road Trips from Twyford.
If you want to learn more about Sherry Hutt's adventures check out one of her books on Amazon.com