A Mother's Day Tribute to Moms in History Around the World
As I sit on dry land this Mother's Day, held in port by a merciless plague, setting the world on its head, I think of my mother, who thoroughly enjoyed going on a cruise. For her a cruise meant traveling the world, seeing all that she read about as a child, in a protected environment, where menus were always in English and driving to the theater was not required. Confined to a care facility and no longer able to travel, she relived her shore excursion experiences by quizzing me on where I was going and what I would tell guests. At ninety-two, with a sharp mind, and a gracious wit, my mother was still correcting my homework this last January, by reminding me of sights in the ports on my next itinerary, which I should not fail to mention in my stories for guests on ship.
In February, while I was thousands of miles away from my mother, entertaining guests on the Oceania World Cruise 2020, she passed. She went to sleep dreaming of her travels as she did each night. Travel experiences build memories, which never leave us, even when our sight dims, our hearing fails, and our legs no longer carry us on lovely walks.
In tribute to my mother this Mother's Day, I offer you several inspiring mothers to contemplate, each who dealt with crisis in their time. Consider the valor of Queen Teuta, who ruled Risan, deep in Boka Bay of Montenegro in 231 BCE. In her four-year reign, the Queen brought wealth to her hungry people by piracy of the seas. Most of the booty came from Roman ships traversing the southern Adriatic and the Ionian Sea.
Queen Teuta's fleet took many ships, establishing her as the Terror of the Adriatic. In 229 BCE Rome declared war on Risan's Queen. Rome sent 200 ships and 20,000 troops to the Balkan Peninsula, known as Illyria. Only with force of numbers did Romans conquer each little hamlet until Queen Teuta surrendered. She is remembered fondly in Risan.
Catarina Sforza was born in 1462, the illegitimate daughter of scion of the Sforza clan, the wealthiest man from Milan to Florence. She married the worthless son of Pope Sixtus, who gambled away funds paid to protect a new Pope from Cesare Borgia. Cesare was still angry at being cast out of the Vatican after the death of his father, Pope Alexander VI.
Seven months pregnant, and leaving six children in hiding, Catarina rode her horse to Castel Sant' Angelo and freed the pope. Cesare's men dared not defy the young, pregnant, woman, who was ready to fight. She was stylish in a French satin gown and black velvet hat with a long train, as she sat high on her horse, with a long, curved sword in her belt.
In the newest neighborhood of Buenos Aires, Puerto Madero, a defunct port was turned into an upscale development of high-rise residences, hotels and art galleries. In the new plot plan, each street is named after a woman in Argentine history. The bridge from the old city was christened by its architect, Santiago Calatrava, as the Bridge of the Women.
The women of Puerto Madero include Juana Manso, who returned to Argentina from exile in the 1860s to found a coeducational school, publish a newspaper publicizing achievements of women and devoted her life to elimination of institutional racism.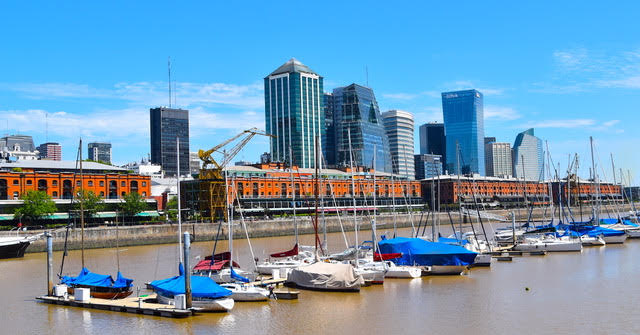 Though critical of Juan Peron, Alicia Moreau de Justo was a founder of the Permanent Assembly for Human Rights. She wrote the law for Peron, giving the vote to women.
Elvira Rawson de Dellepiane raised seven children, while she established school cafeterias and used the medical degree she received in 1892 to promote women's health. Another physician, Cecilia Grierson, performed the first cesarean section in 1892, founded the Argentine First Aid Society and instituted use of alarms on ambulances.
There are thirty women honored by Buenos Aires in Puerto Madero. Too many to mention in this blog. Tribute is due to Azucena Villaflor, who instituted the Mother's March around Plaza de Mayo, in front of the presidential palace to call attention to the disappeared. She died from a fall from a high place, possibly an airplane.
Until we can again visit places of inspiring mothers through history, we should raise a toast to our mothers and the ways in which they inspire our lives. They need not vanquish Roman armies, ride to Rome to protect a pope, or lead social movements. It is with our mothers that we share experiences that open our mind and build our humanity, from awe awakening moments in a school lesson, to a shore excursion on a recent cruise. Even when our mothers are no longer with us, we continue to thrive on their memory. Even when we are unable to travel, our memories continue to transport us.
To all mothers and all travelers, be well and cherish those memories.
If you want to learn more about Sherry Hutt's adventures check out her other books on Amazon.com