Around the British Isles – England, Ireland, Wales and Scotland ITINERARY 10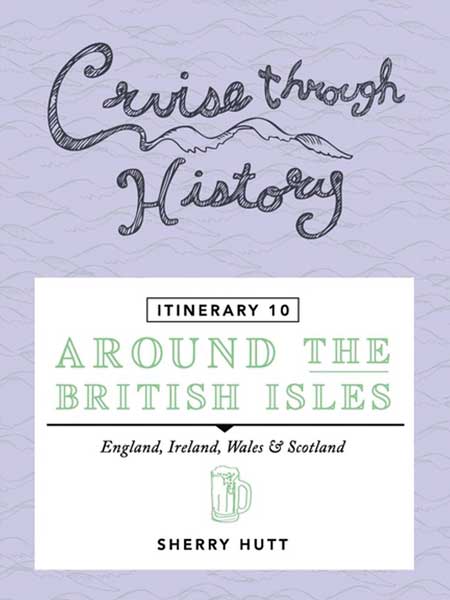 Itinerary 10 of Cruise through History's latest release, the eighth release in the world of travel series, is a colorful romp through Ports of the British Isles. Once again the stories are distilled from hundreds of source materials, mined for the fun facts of saints and soldiers, who bequeathed the landscape of castles, cathedrals and monuments of culture visited on a typical cruise itinerary. Accompanied by hundreds of photos and original art to illustrate the stories, go beyond where guide books take readers, to deepen the enjoyment of your travels. In Cruise through History stories, meet inspiring characters from history. 
In Itinerary 10 Ports of the British Isles, follow King Arthur through Cornwall, St. Patrick through Ireland, Chaucer through early England and the Fab Four in Liverpool. Wander from castle to cathedral in southeast England, through Roman Britain to Hadrian's Wall, and along Royal Mile from Old Town to New Town in Edinburgh. Along the way put personalities into place names and statues. Be introduced to the forces of the Age of Enlightenment in Scotland and the reason the Irish are special in stories of the Filí, the poet-politicians of Ireland, who incited revolution. Then just for fun end in Wales, at Portmeirion, the town wholly created on whim of an architect. Meet fairies and Leprechauns in Ireland and Kelpies and the Loch Ness monster in Scotland.   
The Age of Enlightenment in Scotland is the story of inventors, artists, theorists and martyrs to free thought who lived as contemporaries in nineteenth century Edinburgh. Irish poets the reader will meet span from ancient storytellers to twenty-first century Nobel laureates. Irish harpists have their own heroes in these stories. 
Celts and their Druids are as central to stories in this volume as are Saints Patrick and Columba. Celts are little understood as it has been only in recent times that academics have awakened to Celtic study of this fascinating people, who roamed from India to Ireland. Meet the Celts in their own story in Ireland. 
The story of the British Isles has tension in its history. In Belfast examine the reason there are two Irelands. From Cork to Galway understand the effects of Britain's Irish Question on famine and emigration. Be introduced to Bonnie Prince Charlie in Scotland and the never-ending tears at Glencoe and Culloden.  
Romp through the story behind the Spanish Armada in the tale of Elizabeth I and her arch rival Philip II of Spain. Tiny, lovely and peaceful Kinsale was the scene of another Spanish Armada, a tale of love, treason and over self-confidence of a Spanish commander, released from Spanish jail for a fool's errand to distract the English from Europe. He landed in Kinsale by mistake, with bridles and no horses, hoping to aide Irish freedom fighters, who could never save him.  
Not all stories focus on people. There are stories of famous events and intriguing places to visit. In this volume is the story of Blarney Castle and Newgrange, the site in Ireland older than the pyramids of Egypt. Walk Hadrian's Wall and the Liverpool alley of the Beattles. Travel through monasteries where the Book of Kells was created. 
Author Sherry Hutt has been traveling the world for thirty years collecting stories of places visited and taking photos. She spends half her year entertaining cruise ship guests with stories of places they will visit. Her books tell many more stories.  
Armed with Cruise through History stories before arriving in port, cruise guests report shore visits were great fun when knowing secrets of local characters. They are enthused to go beyond guide books to find homes and haunts of local heroes, poets and historic sites. 
Author and storyteller, began with a career in law. Degreed in law and economics, she retired as a judge to take a fellowship at the Smithsonian Institution in Washington, before accepting a position in two presidential administrations as head of cultural property repatriation. Formerly a museum trustee, college professor and trainer of federal, state and tribal law enforcement, land and museum managers, Dr. Hutt was often a speaker at national conferences. Several times given national awards for cultural property protection, she credits her early legal experience in art theft and archaeological damage cases for inspiring a life-long desire to promote preservation and protection of cultural property and historic sites.   
Stories in a Cruise through History result from travel to places where stories took place, in order to describe the action, in the same way an investigator examines a crime scene. Dr. Hutt searches government records and used book shops for deep facts to bring characters into multi-dimensional human form, with all the real-life flaws and emotion. In this volume of stories, Macbeth is a good king. Strongbow is a hapless, love torn knight. Stories take place in ancient times and recent times. Each port in a Cruise through History has its own charms.  
The Cruise through History series was developed to make history enjoyable and give context of place for travelers. Reading Cruise through History itineraries may inspire a cruise, or just enjoy armchair travel. The stories are all true and will amaze readers with what was left out of history in school.