This Season – Give Foodie Gifts from Travels
The perennial question that pesters travelers is what to bring home to those who stayed behind. Suitcase space and breakage is always a consideration. Refrigerator magnets and colorful local crafts, which look so wonderful in the market stalls, will be relegated to the garage at home. Hawkers in Florence no longer sell inexpensive scarves that look like designer originals. In Florence today, even scarves of chemically-made fibers from China are expensive. Buying imitation anything fuels a trade that violates rights of designers.
Gifts of food are never the wrong size. If the contents are quickly consumed, more travel will be inspired. If the gift is reciprocated, so much the better to evoke travel memories.
From my travels of the past year, I have four recommendations for those small spaces in your suitcase, where you tuck goodies for your friends, the postman and to treat yourself. From New Zealand the find is Manuka Honey, the miracle health food; in Japan buy black sugar, a condiment for vegetables and also healthy; look everywhere for locally made chocolate; and finally, my favorite foodie-find of the year, Scrummy Brown Sauce, made in Hampshire, England of all local ingredients.
Cough drops containing Manuka Honey can be found in many health food stores in the US. It is more fun to shop for the source honey where the bees live, in New Zealand. Plastic, packable jars can be found all over New Zealand in souvenir shops in Christchurch and specialty boutiques in Wellington. The confusion for the uninitiated is to understand why jars are marked as 5% to 50% honey, with prices from $10 to $350.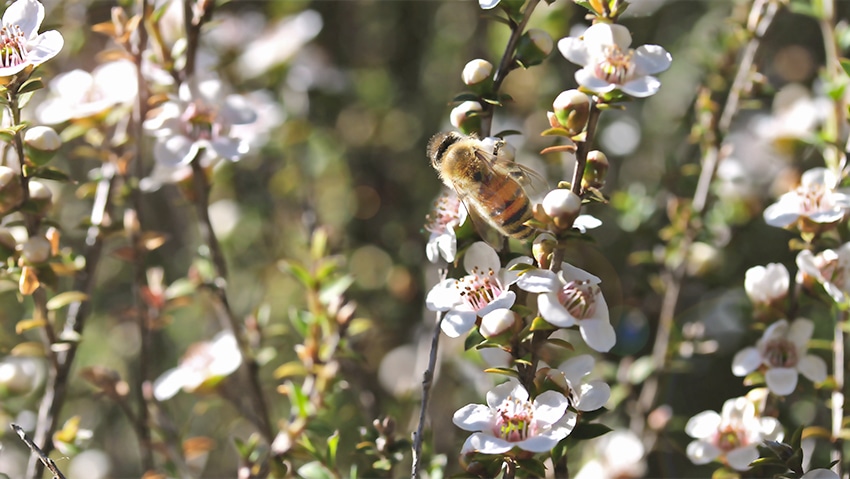 All honey has anti-bacterial properties. When you have a cold, honey with lemon in tea is a remedy that goes back to ancient history. Manuka honey comes from bees which feed on the flowers of the manuka bush found in New Zealand and to some extent in Australia. Honey from these bees has a high concentration of anti-bacterial properties, which give it a potency greater than all other honey. Just a small amount of treasured Manuka honey, sold mixed with lesser honey, is sufficient to treat a cold. High concentration Manuka Honey, with corresponding high prices tags, is best used externally to treat wounds and skin conditions. For the flight home, a bag of Manuka Honey drops may fortify your immune system enough not to pick up a cold on the plane.
This last year, in a New Zealand restaurant of all places, high in an office tower in the Ginza district of Tokyo, I was served steamed vegies with dollops of a black sauce, which looked like balsamic reduction. My waiter was offended. The shiny, melted substance was Okinawa black sugar. It was not sweet or sour. It really enhanced the vegetables, and as I learned, had medicinal qualities.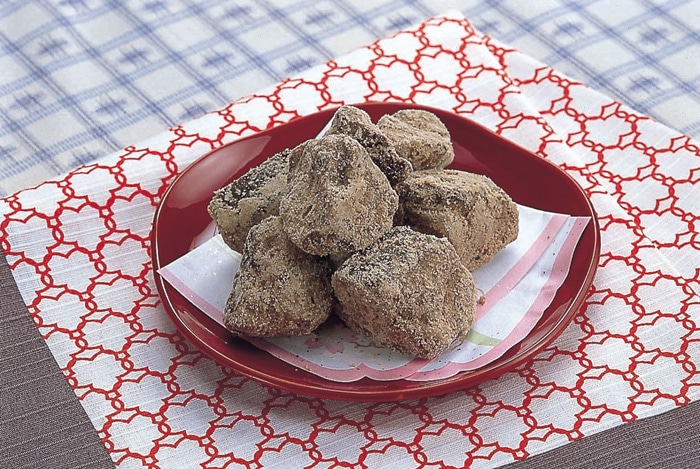 Black sugar is made from a Japanese strain of sugarcane. As aficionados of plant-based foods know, plant variety and local growing conditions make a difference. The Okinawa designation is not so much a growing region as it is a process of making the sugar. In the process of refining white sugar, and to a lesser extent brown sugar, nutritional value is lost. In the Okinawa process, iron, calcium, potassium and magnesium are retained. Black sugar is common in Asian cooking. Hard bits of rock sugar are an instant treat. Melted sugar as a dipping sauce or artful food enhancement is an easy means to an impressive plate. Small, sealed bags of rock sugar bits can be found in food stalls everywhere in Japan and Taiwan. If your gift recipient does not understand Asian characters, an explanation in English will be required.
As anyone who has cruised with me knows, once the ship docks, from Havana to Honfleur, I can find favorite shops of artfully made local chocolate. From this past year, my favorite is treats made by Gennaro Bottone in Naples, Italy. He calls his shop on the Via Pietro Castellino, My Truffles. You will find it on the quiet street behind the Plaza Pietro Castellino, on a small plaza occupied by parked cars, between the famous large plaza and the pedestrian shopping mall, with all the hawkers advertising original Napoli pizza. The little sign, high on the corner wall, simply says, "chocolate." Gennaro has been crafting chocolates with liquor and 100% natural ingredients for forty years.
Brown sauce is as ubiquitous in England as ketchup in the United States. Scrummy Brown Sause, made by the Hampshire Jam and Chutney Company is different. This sauce is handmade, in small batches, from all local ingredients, with no chemicals, fillers, or preservatives. The sauce is made of rhubarb, onions, apples, cherries, vinegar, sugar and spice. At the Bean Below coffee shop in Twyford, the sauce bottled for the Twyford Post Office & Stores, is served with eggs at breakfast and all sorts of dishes at lunch.
Manuka Honey and Okinawa black sugar can be purchased on line, or at local health food and Asian grocery stores, but is much more special when purchased from local purveyors on site. Transported home in a suitcase gives gifts a caché not found in local purchases. Buy extra for yourself to recall memories of travels long after photos on Instagram are lost in the multitudes. Special are those items you chose and bring home to share.
Happy Holidays to all!
If you want to learn more about Sherry Hutt's adventures check out one of her books on Amazon.com