Greetings from a Cruise Ship at Sea
The long pause is ending. While politicians in DC, Florida, Scotland, and the CDC wrangle over rules for ships, cruise lines have addressed the business of guest safety with 21st century technology and healthy protocols. The procedures work. Guests are delighted.
This blog comes to you from the Viking Ocean Orion, at sea since June 15, sailing Bermuda. In each of the six, one-week sailings the number of guests onboard increase until the ship sails full. Guests are delighted to be at sea, to be on this lovely ship, and to enjoy visiting the ports.
To enjoy this cruise, guests were requested by Viking and by Bermuda to go through some precautions. First, the cruise line requested that only fully vaccinated guests come on board. Loading a copy of the vaccination card into the Verifly app was easy and free. Next, a PCR test within five days of the cruise was required, with proof of a negative result, documented on stationary of the testing center. Note: test results on plain paper are insufficient. Tip to travelers: make certain you have a paper copy that notes the testing center. The PCR test is not an antigen test. PCR testing is the new normal.
Bermuda required additional paperwork, very time sensitive. Within three days of travel guests apply for a Bermuda travel authorization, online, in which the vaccination and PCR records are uploaded. The cost is $75. Ideally, Bermuda responds in 24-hours with authorization. Print a copy for presentation upon landing. Some guests report this process was a cliff hanger when Bermuda was overloaded and did not promptly respond. Some guests used the old-fashioned telephone method to prompt action from Bermuda officials. Fortunately, most guests received email notification the day after applying.
Upon arrival in Bermuda, the airport officials were efficient in putting passengers through steps. First, paperwork is checked, just to see that everything is in order. There is the usual immigration and customs forms to be completed and passports stamped. After collecting luggage, a line forms to collect paperwork. Next passengers line up for the on-site PCR test. The nasal test is quick, painless, and undertaken in a clean setting in the airport.
Bermuda requires arriving passengers to quarantine for 24 hours, until receiving test results. Enjoying the ship meets the quarantine requirement. Viking whisked away guests to the ship upon coming out of the PCR test, with no more lines. Vans of six guests transported everyone from airport to ship. Guests arriving early stayed in hotels for quarantine prior to boarding ship.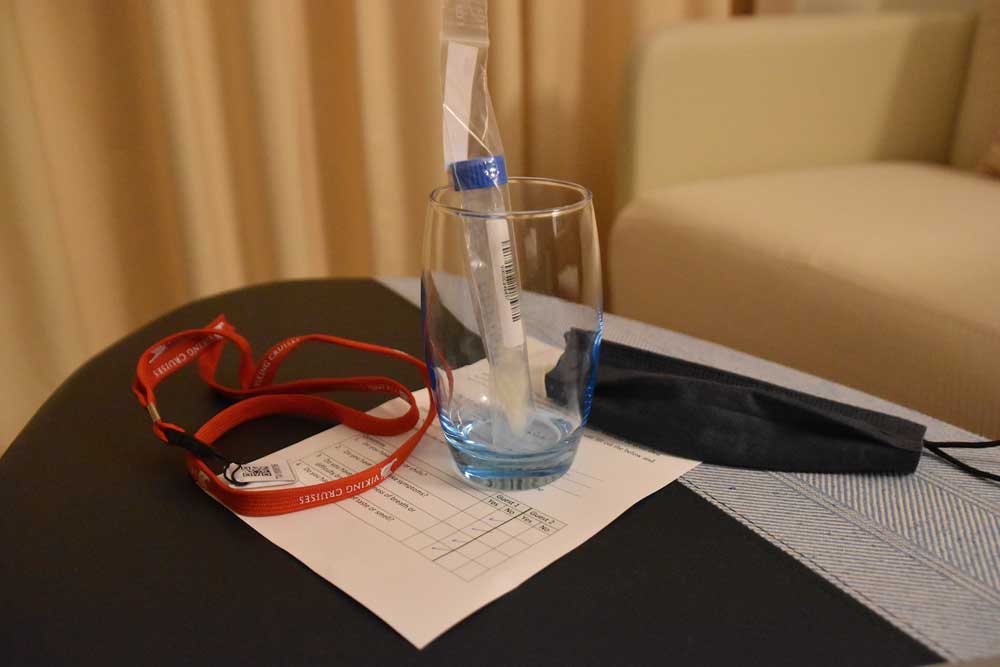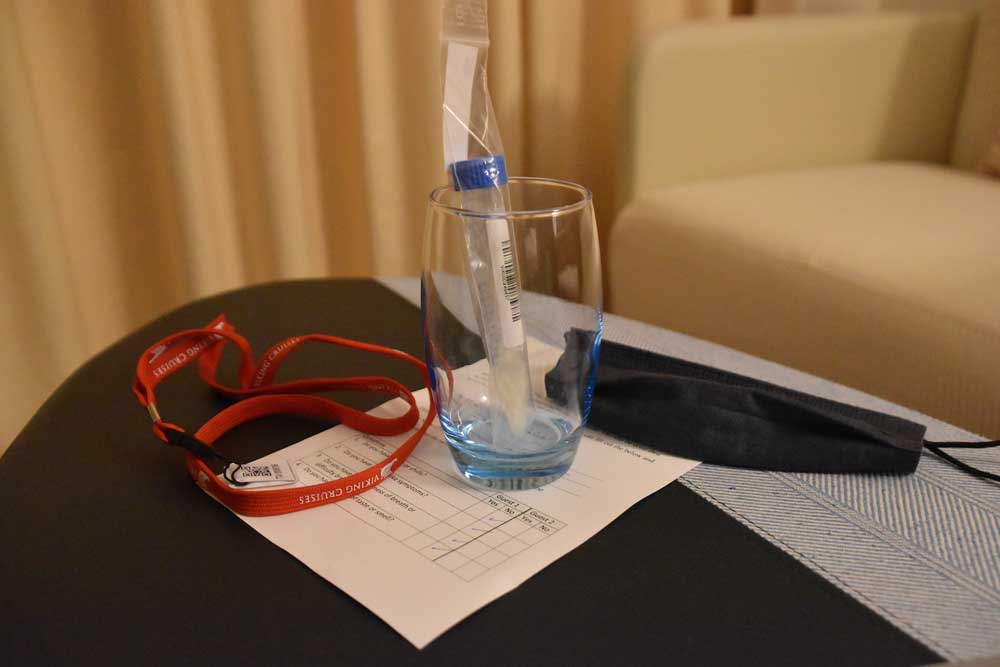 On ship protocols always require masks, except eating and drinking. Everyone wears a contact tracking device. The device does not tell Viking where you are, it tells who you were near. In the event of a positive PCR test, the tracking device will quickly identify those in contact. Each morning guests leave a small saliva sample in a tube for daily tests and each day guests leave the tube for collection with a short health self-report form. Each day guests pause in front of an I-pad type thermometer, with facial recognition, that records temperature as it indicates a morning greeting. It knows your name, of course.
On the Bermuda cruise, Viking was prepared to entertain guests every day, should they not leave the ship. Just prior to the first cruise Bermuda lifted the requirement of limiting guests to shore excursions. While shore excursions include walking and van tours, golf, boating and water sports, guests can freely walk about the ports and go to the beach. Shops and cafes are open. Galleries are open. Bermuda is delighted to play host.
Returning to sea is lovely. Guests share their joy of being back in the ambiance of travel by ship. Humans are naturally social. Cruise travelers are naturally active and engaged in world events. Isolation was hard on everyone. Guests turn off television news and tune into the cruise director. There is an instant catharsis that a shared catastrophic event is ending.
Before dawn this morning, sitting on the cabin veranda with coffee, there was a full moon. The ship veered slightly, and the lighthouse of St. Georges Bermuda blinked in the distance. There is a freshness of sea, air, and sky, and a feeling of peace and freedom. Not everyone in the world can share such a moment. It is a treasure. Coming out of the Covid-19 pause, it is a treasure to appreciate with a new consciousness.
On this cruise there are stories to tell on stage of the wonders of the places we visit. The bigger story is the cruise occurring. This is not a story to tell, so much as a story to feel.
Read all the Cruise through History stories available in print and e-book on amazon.com